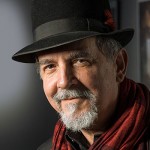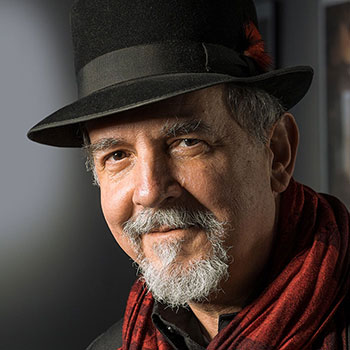 Lee Varis ,the owner and founder of Varis PhotoMedia, has been a photo-illustrator working in Hollywood for most of his 45+ year career. He started working with computer imaging over 25 years ago, after being introduced to the Quantel Paintbox system, and currently works with digital photography, in conjunction with computer graphics, to create images for use in advertising, commercial graphics and multimedia. His work has been featured on movie posters, video box covers, CD covers, and numerous brochures, catalogs and magazine articles. Lee´s creative imaging has been featured in National Geographic and Fortune magazines, as well as numerous trade publications including: Photo-Electronic Imaging, Studio Photography, PC Photo, Rangefinder Magazine, Photo District News and Mac Art & Design. Lee has also been involved with consulting and training activities, for numerous corporate clients. He conducted a series of imaging seminars for Apple Computers that took him around the country to most of the major metropolitan areas and is currently active in seminar programs with PPA, APA, ASMP, ICP, CPW, and LACP. He maintains close relationships with many hardware and software companies and is involved in beta testing programs. He is also an ambassador for Fujifilm, as part of the X-Photographer team.
Lee's latest book is "Mastering Exposure and the Zone System for Digital Photographers" a complete guide to both the technical and creative aspects of exposure in digital photography. This guide uses a combination of discussion, examples, and hands-on exercises that lead the reader through a progression of skills development covering the full range of photographic lighting situations. Topics covered include basic metering, outdoor and indoor available light photography, studio lighting, night, and low-light conditions, as well as advanced topics like high-key and low-key lighting, multiple light sources and HDR. In conclusion, the author shows how to use the Zone System, developed by Ansel Adams for film, with today's digital cameras to achieve stunning results with exceptional tonal range and clarity.
Perhaps his best known book is "Skin : The Complete Guide to Digitally Lighting, Photographing, and Retouching Faces and Bodies" with Sybex (now in a 2nd edition). This is a professional level how-to guide to all aspects of digital photography of people. The work offers intermediate and advanced Photoshop techniques as well as digital-specific photo techniques for digital photographers looking for the next level in expertise.
Lee wrote "Digital Photography for Creative Professionals" with Rockport Publishers in 2003. This is an examination of professional applications of digital photography for commercial graphic artists and art directors concentrating on workflow issues and creative solutions for graphics workgroups.
He has also written articles for Design Graphics, PEI, PC Photo, Rangefinder and Digital Photo Pro.

As a fine artist, Lee has been working on a series of images based on the Tarot. Current progress on this project is on display at:

 Lee has developed a unique approach to photography that takes advantage of certain idiosyncracies of digital capture technology to create impossible lighting effects as part of his personal style. This intimate knowledge of digital image technology affects the pre-production process as well. Photo shoots are designed to take advantage of new creative possibilities as well as the time and cost savings that digital imaging provides. Images are often re-combined with digital painting and effects or with additional photo elements to create digital images that transcend the original source materials. After production, images can be delivered via the internet as digital files or output in any manner for use in various print, multimedia or display applications. Asset management is another service that can be provided; all digital files can be cataloged and stored for later retrieval using an approach customized for the clients needs.

Lee's strong background in conventional photography gives him a unique ability to develop digital imagery that has a more organic feel rather than the flat plastic look of much of today's digital artwork. With his ability to see a project from concept, through photography, digital enhancement and final delivery in a variety of mediums, Lee feels he can serve the advertising community in a truly unique way. The future of imaging, and specifically photography, is clearly digital. Lee has a firm command of both traditional and digital techniques, giving him a clear advantage over the computer technician who is not equipped to make creative judgements and the conventional artist who lacks the tools necessary to realize the digital future.
---
For more info e-mail varis@varis.com •Varis PhotoMedia• voice: 323-209-5376