Consider Using a Professional Service Instead of Investing in Expensive Hardware!
You may notice that I am not asking whether you need a print! All photographers need to print their work—printing is part of the image creation process, part of the visual learning process, and part of the path to photo-mastery. Even if most of your images are destined for the computer screen—displayed for social media, making prints is a necessary way to hone your visual skills. Putting the image on paper is a kind of acid test for the strength of the image and the quality of your technique. I believe that you can't really know an image properly until you make a print of it.

Making prints teaches you much about how to craft an image for maximum impact by removing you from the seduction of those glorious 4-5k back-lit displays—everything looks good on a modern hi-res computer monitor! Once you place an image onto paper, and you are faced with the limited dynamic range of the print, you can really "see" how the colors and tones work together in a real-world context. You find yourself saying things like: "Hmm… there's not as much shadow detail there as I thought!" or… "wow… that just seems so dull." The funny thing is, once you adjust the image to look good on paper, it looks better on the monitor as well. So… one of the best tools you can invest in is a small inexpensive photo-printer, capable of 8×10 prints!
Ok… so I've just spent two paragraphs describing how its so useful to make prints, as a learning process, or a tool to properly visualize contrast, color and tone—and why you should have at least a small printer. So why the question: "Do you need a printer?" When its time to enter a contest, make an album for a client, re-decorate your living room, or even make a holiday gift—you will need something better, higher quality, and definitely larger than what that inexpensive inkjet printer can deliver!
I have an Epson 4000 printer capable of printing stunning 17×22 prints. I struggle to justify printing with it once every two months! I don't have room to display or even store the resulting prints, and keeping it supplied with ink is EXPENSIVE!  This gear is a major commitment to maintain, and my advice to most photographers these days… Unless you make it a business to make prints, stick with a small inexpensive printer for your photo-education, and get your high-quality large prints at a professional service! While a photographer definitely needs prints, he or she doesn't actually NEED a piece of hardware to make them—they need a professional service to make prints for them!
I have personally used many services for printing, and I have managed two major professional photo labs in Los Angeles to make prints. I have seen printing technology change over the years, and been at the beginning of the online fulfillment revolution—things have definitely gotten better for the individual artist!
I recently had the opportunity to test the printing services of Marathon Press with their ROES online printing ordering system, and I am impressed with the quality, convenience, and cost!
I used an image from our last Venice Carnival tour with Chromasia, captured in St. Marks square utilizing the Pixelstick light painting system. The dominant blue color is always a bit of a color challenge for any archival inkjet print (there is no blue ink!)—the hue in the print usually shifts either towards magenta or cyan. The Marathon Bella Art print maintained an accurate representation of the exact blue in the file!
The print ordering process is very straightforward. Once you setup the ROES app, the ordering process is quick and easy. I requested my print with the White Styrene mount…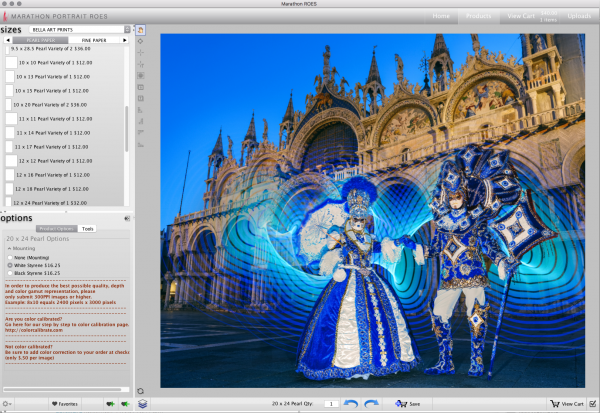 Normal turn-around for print orders is a quick 2-3 days, but you can rush orders and if you get the order in before 8am it will print and ship the same day!

My print arrived just as predicted in 2 days! I know, surprising, right? Not only that, but the packaging of the shipped print was the best I've ever seen—extremely well protected, and they even make it easy to open the package without using a utility knife—I can't tell you how many times I've damaged a print by opening the package with a knife!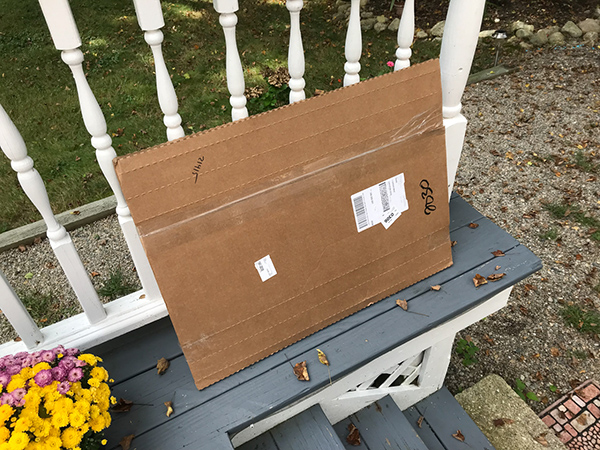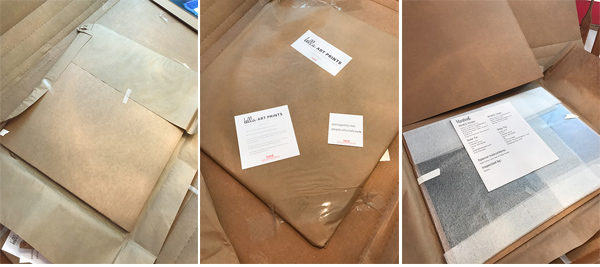 There is a little note applied to the package the says: "packaged by real people, who really care" —definitely! Several layers of protective material surround each print, until you arrive at a clear plastic  envelope, perfect for storing the print until you get around to framing it.
All in all, I could not wish for a better printing experience. Price, convenience, and quality, really come together in Marathon Press' ROES online printing service! So if you are ready for high quality archival print, don't hesitate to try Marathon Press and their Bella Art prints!
SaveSave
SaveSave
SaveSave
SaveSave
SaveSave
SaveSave